Just published: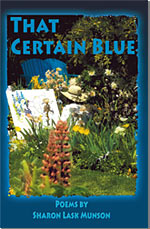 "To an Anchorage schoolyard invaded by a bull moose. To a spot at Lord Rothschild's tea table. To the uncharted, unfathomable territory of an aging mother's dementia. With lively wit and an eye for striking imagery, Sharon Lask Munson takes us all over this world and through generations of family history and lore. Her poems invite us into both macrocosm and microcosm—that place in which 'Earth rotates on its axis/ and a vine maple drops its last red leaf.' "
– Paulann Petersen
Oregon Poet Laureate
Featured poem:
First Street Elementary
Early September.
The children enter, toting
stiff new book bags
filled with lined notebooks,
number two yellow pencils,
boxes of sharp crayons.
How earnest they are
scrubbed and combed,
their clean new sneakers
squeaky
as they trek down
brightly lit hallways.

And all through the morning
mothers, at home,
move through silent rooms,
listen.

That Certain Blue
To order:
That Certain Blue- $15.95
For a signed copy, contact the author!
Or, books are in stock at 1st World Publishing: 641-209-5000
or online from Amazon


It's now available as an e-book on Kindle!
Or, order at your favorite bookstore using the book code:
ISBN: 1421886294 | EAN: 978-1421886299